George Bellows
1882-1925
One of the Greatest Painters Of All Time
American Painter
Education - Studied under Robert Henri
Cause of Death - Appendicitis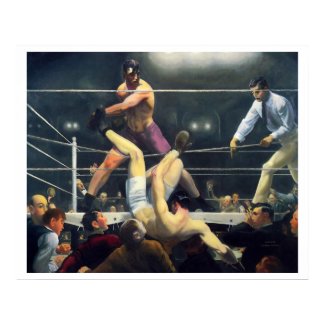 30x24 Vintage Art Sports Boxing 1924 Poster
by
VintageExpressions
Find other Vintage Posters at
zazzle.com
The great American painter and printmaker, Bellows was born in Columbus, Ohio to a wealthy architect and builder. He dropped out of Ohio State University to pursue his true love of painting. Studying under Robert Henri in New York City. His work has a direct, unselfconscious realism and has survived because of its humanity and sincere conviction. He was a well loved teacher at the Art Students League, New York City.
George Bellows Quotations

"The ideal artist is he who knows everything, feels everything, experiences everything, and retains his experience in a spirit of wonder and feeds upon it with creative lust." -- George Bellows Quote

"The aim of art is to represent not the outward appearance of things, but their inward significance." -- George Bellows

"Art strives for structure, and aspires for magnificence. " -- George Bellows

"Lacking choice art dies."-- George Bellows
Require more information about George Bellows in Art History? Type your query in art into the google search box below and poke around every nook and cranny of the known universe for information this subject.
Do you know something we don't? If you have comment or would like to share an insight regarding George Bellows in Art History, please submit your comment to the editor, via e-mail and if possible site the source. Thank you!

© HistoryofPainters.com If you like this page and wish to share it, you are welcome to link to it, with our thanks.